The Lane Family
Our Staff

David Lane – Growing up on the family farm milking cows and throwing hay bales Dave has worked this land for several decades.  Embracing the changing agricultural landscape he enjoys the challenge of marketing a different quality beverage.

Julie Lane – Bringing her drive as an educator to Snow Farm, Julie wants the customers to experience all we have to offer. It starts with the award winning wine of course. But add in the history of the area and the natural beauty of the vineyard then toss with local art and it is indeed a magical experience. In addition she will work tirelessly to make your special event at the winery spectacular.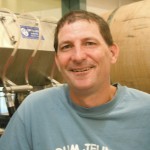 Patrick Barrelet is the artist behind the wines. A part owner, Patrick has been the head wine meister since day one with a degree in Oenology from the University of Dijon in Burgundy, France, one of the great wine-producing regions in the world. He majored in Pinot Noir, which is a way better major than any other I've ever heard of. He is an award winning wine maker many times over and is tolerant over our lack of appreciation of Canadian pastimes, like curling.
Alex Lane is almost always found out in the Vineyard tending to the vines.  All year long Alex can be found out in the 13 acres: pruning, training vines through the trellis, pulling weeds, harvesting grapes, or driving around on his beloved Kabota.  Living within walking distance he can keep a close eye on his vines.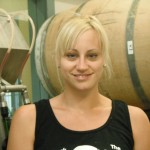 Cassandra Martin is the assistant wine maker, and has everything to do with Snow Farm Vineyard.  Cassandra or Cassie keeps everything in order, from the bottling line to the wine cellar.  Working beside Patrick she lends a hand in the chemistry behind the award winning wines.  She and her husband Chris met working at Snow Farm Vineyard years ago.
Thereza Cononi or Tree as she is commonly know around the island, teaches Vinyasa Flow, yoga classes regularly at Snow Farm.  She also enjoys bar tending in the tasting room, as well as being part of the amazing special events team.  Tree believes it's good to know where you food comes from and it's even better if you know where your wine comes from too.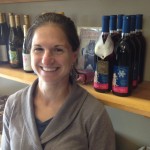 Elizabeth Vachon is another friendly bar tender you might meet any given day of the week across the mahogany, in the tasting room.  She loves sharing Vermont's culture through a farm to glass experience. When Elizabeth isn't bar tending at the tasting room she is enjoying her family and kids, William and Charlie.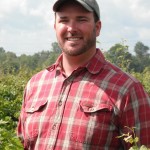 Nick Lane has called South Hero home his whole life.  The agricultural landscape suits him.  Nick's hand carved wooden signs hang all around the Vineyard on the end posts labeling the grape varieties, offering a phrase of wisdom or simply showing where to park.  In the evening you can find him working the grounds, and is also part of the Snow Farm special event staff.
To contact us call (802) 372-WINE (9463) or email: lanes@snowfarm.com