Featured Artist
---
May
To Be Announced
June
Lynn Cummings
Lynn Cummings is an award-winning painter in S. Burlington, VT. Her love of gardening, color and nature are evident in her brilliant florals, landscapes, nature-inspired works and most recently, abstracts. She and her family enjoy travelling, and many of her paintings are based on subjects and impressions from their travels throughout the US, Latin America and abroad.  Lynn has a master's degree in education and has been teaching workshops and classes since the early 2000's. She is a signature member of the Vermont Watercolor Society (former board member), member of Northern Vermont Artists' Association (former board member), Helen Day Art Center, and River Arts (Chestertown, MD). She has been selected twice to participate in the Basin Harbor Club's "Reflections" prestigious program for Vermont artists.

Artist's Statement
"Whether working in watercolor, acrylics or mixed media, I enjoy the unexpected surprises and the fluid shapes that form when water and pigment mingle as I help them flow across my canvas or paper. I love the textures from laying down layers of textured papers, found objects and bits of paintings as I begin a collage. Figuring out where to go once the initial shapes have been created on the page or canvas is an exciting challenge, much like working on a jigsaw puzzle without knowing what the end result will be.

I paint subjects, shapes and patterns that I find appealing and inspiring, and the more colorful, the better! If other people enjoy them too, I've met my goal as an artist. Sharing my enthusiasm and tips for creating art by teaching others to explore and enjoy making a work of art gives me great pleasure and inspiration as well."

For information about works of art, classes, workshops or private lessons please contact the artist at: lynncummings@gmail.com , visit her website: www.lynncummingsart.com or Facebook: Lynn Cummings Art.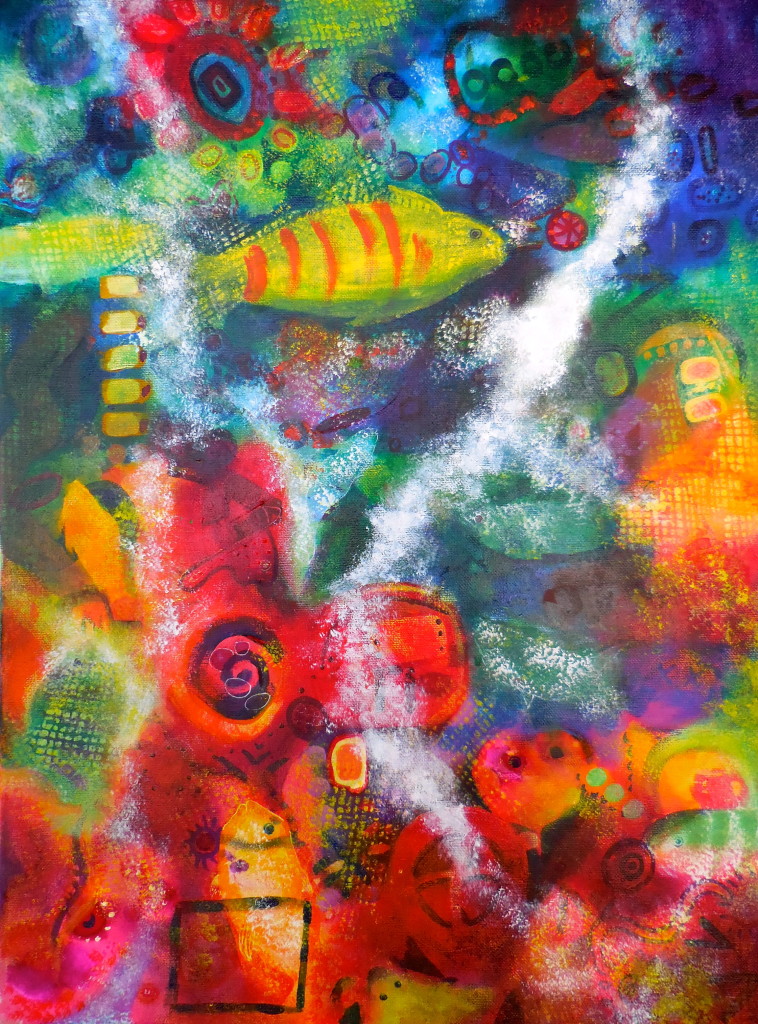 All images copyrighted by Lynn Cummings. January 2015
---
July
Maurie Harrington
Plein air painting is her passion, especially her favorite subjects, House Portraits, Landscapes, Snow Scenes, Barns and Buildings, and Florals.
Maurie's deep-seated love of nature captures that beauty with her special artist's touch.  From mountains vistas and quiet forests, to vibrant flowers, Maurie captures their unique beauty.  While her studio is located in Killington Vermont, Maurie Harrington exhibits widely throughout New England. Her work is hanging on walls around the world. She is well known for her watercolor workshops held at her studio, as well as other locations. Her work illustrates nationally published books.  From the quiet, muted tones of soft flowers, to the vibrant blast of color displayed by the flashy set, Maurie uses a variety of techniques to convey and explore nature's offerings. Her ability to capture the mood is unique.  Many of her paintings are available as prints, matted or framed. Contact Maurie for more information.
http://www.maurieharrington.net/
---
August
Sandy Reese
Sandy Reese is a landscape oil and watercolor painter from South Hero, Vermont. Sandy discovered her love for painting as a child and remembers being influenced by her first art teachers, Rita Boyd of Winooski, Vermont. Over the years Sandy has studied with many nationally recognized artist from around the country in both studio and plein air workshops, including her mentor, Lisa Beach of Stowe, Vermont.
Sandy's work is expressed in vibrant impressionistic style while retaining its representational roots. Much of her work reflects her love of Lake Champlain and the Champlain Islands that she now calls home. The pink hues of a morning sunrise and the gold and yellow afterglow of an exquisite sunset are forever inspiring her to capture the beauty of the moment, she paints quickly and lets the paint capture that moment and memory in time.
Sandy currently exhibits her work at her studio/gallery at Brickwork Art Studio, located in the Burlington South End Art District. She has exhibited her work at the Champlain Island Art Organization's annual July show, Open Farm and Studio Weekend and The Island Arts Gallery in South Hero, VT. Works in juried exhibitions include the SEABA Gallery in Burlington, VT, Chandler Gallery in Randolph, VT, Chaffee Art Center in Rutland, VT, Vision of Vermont Gallery and The Bryan Gallery both in Jeffersonville, VT.
In 2012 Sandy was awarded "Signature Membership" in the Vermont Watercolor Society. Currently she's a member of the Champlain Islands Artists' Organization, Burlington City Arts, SEABA and Northern Vermont Art Association.
Sandy's work can be viewed at her Studio/Galley located in the Burlington South End Art District at Brickwork Art Studio (Located off Pine Street behind New England Floor Covering)
Web Site: Sandrareese.com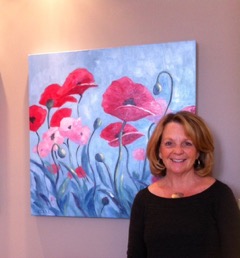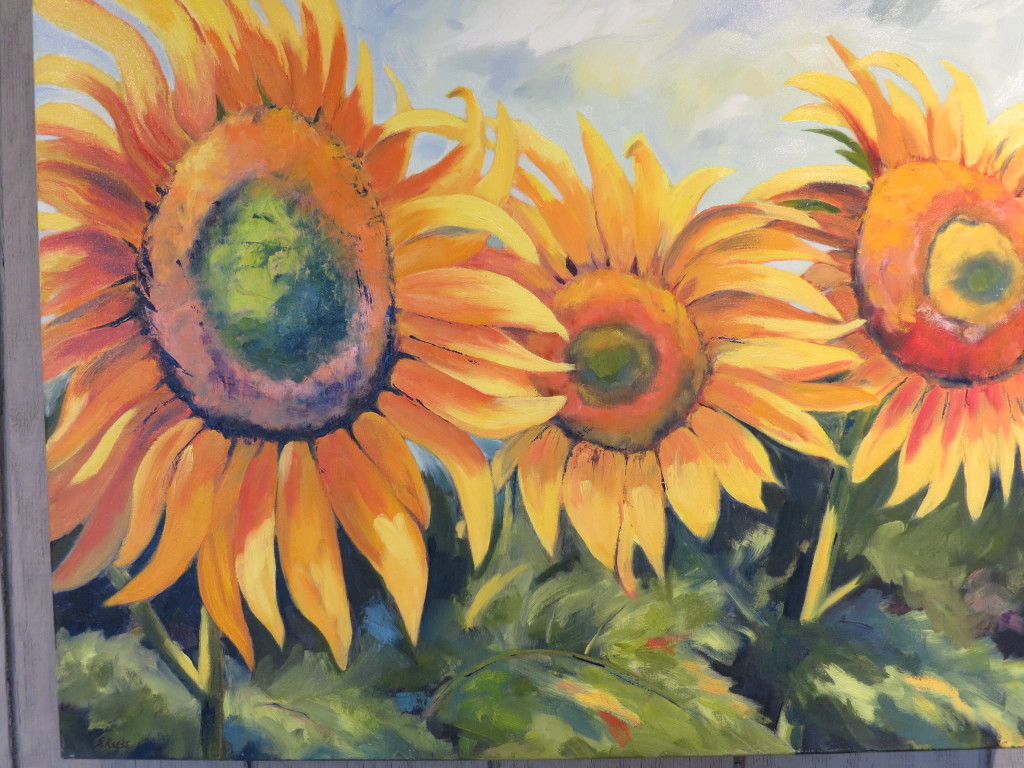 ---