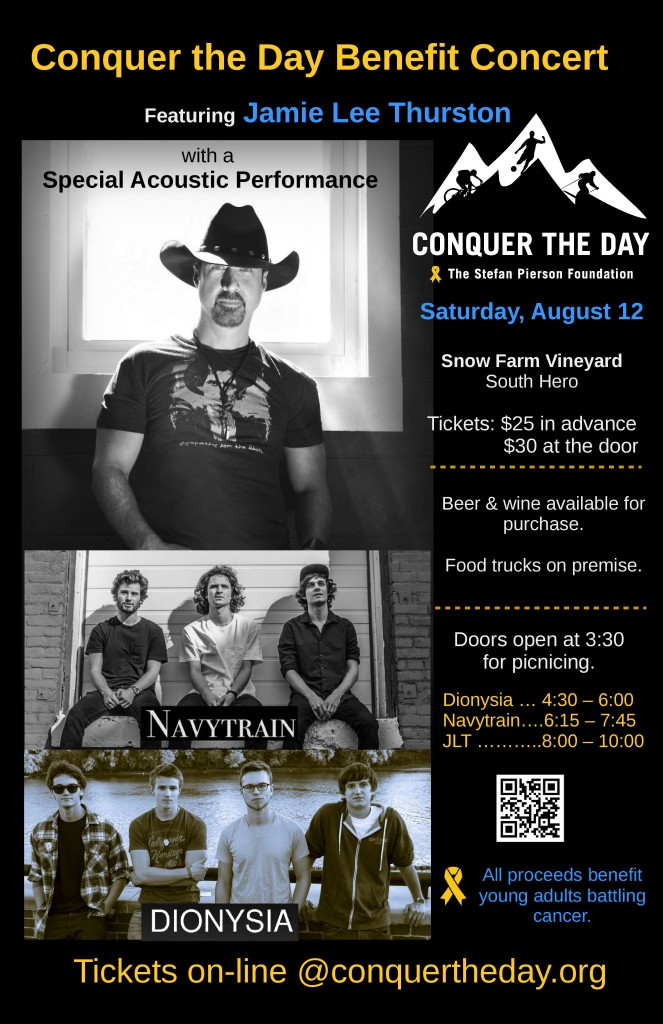 The Concert of the Summer with a story and a cause now for all of us to do what we can to pass it forward and improve the lives of young adults battling cancer with a spirit inspired by a Stefan Pierson.
The Concert: Benefit concert Saturday, August 12 at Snow Farm Vineyards to support young Vermont adults battling cancer. Featuring Jamie Lee Thurston, with Navytrain and Dionysia opening.  Doors open at 3:30 pm. Music from 4:30 pm – 10:00 pm. Beer and wine for purchase.  Food trucks on premise.
The Story: Stefan was an amazing athlete, a passionate skier on both snow and water, an Eagle scout, but most importantly a generous soul. He lost his battle to bone cancer at the age of 22.  His life was way too short, but he lived every minute to the fullest and had a contagious love of life and an infectious smile.
The Cause: Our foundation is a Vermont-based, 501 (c)(3) non-profit organization created to help young adults battling cancer live full and meaningful lives. From first hand experience, we know that these young adults often have limited resources, a scary road ahead, yet dreams for a lifetime. Our mission is to help them continue with their passions or pursue their dreams by funding adaptive equipment, allowing them to learn new skills, or enjoying a trip or a wish adventure. No longer eligible for Make-A-Wish, this demographic is under-served by charitable organizations; hence, our desire to honor Stefan's life and make a difference in the lives of others.
Come and support these individuals so they can continue to live life to the fullest and be an inspiration to us all.
Soak up the sun, dance under the stars, or relax in the shelter of a grand tent, while enjoying the best of Vermont music, scenery, wine, and beer. The day is sure to be memorable, enjoying music and good times with friends, all while supporting a deserving cause.
We are happy to announce that we have three fantastic acts for our 2017 Conquer the Day Benefit Concert on August 12 at Snow Farm Vineyard. Featuring a  special acoustic performance by Jamie Lee Thurston with opening acts by NavyTrain and Dionysia. All proceeds benefit young Vermont adults battling cancer.
Jamie Lee Thurston was born and raised in Vermont and is a Country music success story. He's had a hit record, a top charting video, played with superstars such as Jason Aldean and Brad Paisley, and performed on some of Country's biggest stages.
NavyTrain is a three piece, alternative folk rock band based out of Burlington, Vermont. With Cole Davidson on lead vocals and guitar, Ray Belanger on the cajon and vocals, and Zeb Carney on the bass, the trio provides a soulful sound that anyone can enjoy.
Dionysia is a talented group of CVU alumni noted for their eclectic blend of soulful rock and energetic performances. Garret Brown on guitar & vocals, Alex Meyers on drums, Will Kiernan on bass, and Julien Vandal on keyboard & saxophone, play to make every show a "celebration of music, good company and grand experiences."
Beer and wine available for purchase. Food trucks on premise are: Smokin' Butts, Broken Arrow, Island Tacos, and Roots, along with Island Ice Cream.
Doors open at 3:30 for picnicing – Dionysia at 4:30 — Navytrain at 6:15 — Jamie Lee Thurston at 8:00.  Dance to the music until 10:00 pm.
Admission: $25 in advance, $30 at the door (under 16 free.) Tickets can be purchased on-line.
Click here or copy and paste the link below.
---
Our live concert music series presents a variety of music to satisfy all tastes – from classical to jazz to swing to bluegrass to classic rock. All concerts are free and tickets are not required. Concerts are held every Thursday evening from June to September, weather permitting. Picnicking begins at 5 p.m. and music starts at 6:30 p.m. and ends at 8:30 p.m.
Wine and beer are available for purchase. Alcohol purchased off-site may not be brought on-site. (Buying our products keeps the series going… we depend on the revenue and co-sponsorship's in order to present the music series).   The Music in the Vineyard Summer Concert Series is the longest running concert series in Vermont.
Food is available onsite from The Sausage Shack (Hot Sausage, Sweet Sausage, Lobster Rolls, Hot dogs, hamburgers and french fries) and Pizza Papillo's on-site flat bread oven.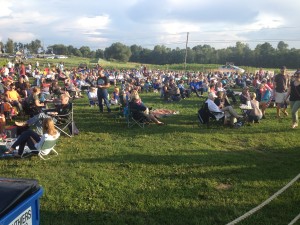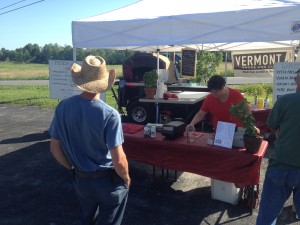 In case of bad weather: Please call the vineyard, check our facebook page, or check our blog or listen to WVMT 620 AM for last minute announcements.
---
In addition to the popular Summer Concert Series is the Winter Wine Down music series.  These Friday night Winter Wine Downs light up the dark days of Winter.  The Tasting Room is a cozy place to gather with family and friends.  There is a variety of seating available throughout the Tasting Room and Atrium; bistro tables, futons, high-top bar tables and of course plenty of stools at the bar.  Enjoy talented local musicians form 6:30 to 8:30 while you sip our award winning wine.  Catered Winter Menus by My Kids Kitchen will be available to order at the Tasting Room every Friday night. Check our Facebook page for updated menus each week.  Stop in to sip the wine, chat with friends, and get lost in the music all together. 
---
The Vineyard also makes a wonderful location for special events such as weddings or private parties.