South Hero is situated on a large island in the middle of the northern part of Lake Champlain with the Green Mountains of Vermont to its east and the Adirondack Mountains of New York to the west. It is approximately 75 miles south of Montreal, 20 miles northwest of Burlington, VT and 1 mile via year-round ferry to the Plattsburgh region of New York State.
South Hero is a small agricultural town with a population of 1,654 people (2010 census). Tourism and farming are it's main economic industries. Dairy farms and orchards predominate. Our Snow Farm Vineyard and Winery was Vermont's first grape vineyard, paving the way for many others to follow.
ACTIVITIES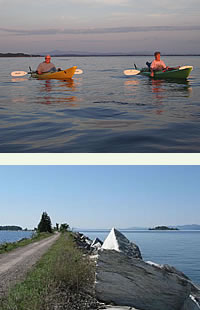 Opportunities for activities abound from our farmhouse site, on the lake shore.  Lake Champlain, 120 miles long by 10 miles wide, with many islands and a rich naval history, is a waterway rich with opportunities, from swimming off our gradually sloping shore, to taking a day-long kayak around some of the historic islands. We are also within walking distance of White's Beach, a small public beach with a reputation as one of the best windsurfing beaches in the northeast.
The many sparsely traveled dirt roads are ideal for biking, and access to the island Line Recreation  path is within a few miles of the farm. This path stretches south across an abandoned railway causeway half a mile into Lake Champlain, providing one of the most spectacular views in Vermont. A bike/pedestrian ferry connects this path to the south side of the causeway and enables one to ride to Burlington 11 miles away. Heavily damaged by the record flooding in 2010, this causeway has been totally restored and a new larger ferry put into service starting in June of 2013.
Waterfowl, birds and fish abound in the islands. Great Blue Heron, Canada Geese and a wide variety of ducks are plentiful. Martins, finches, woodpeckers, warblers, and swallows can be heard each morning. The fishing is great and easily accessible. Vermont Fishing Info. Additionally the Green Mountains of Vermont, with innumerable hiking opportunities, are less than an hour's drive away. For more information on hiking visit the Green Mountain Club website.
EVENTS of INTEREST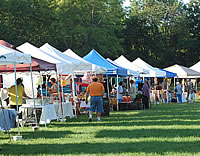 Champlain Islands Farmers Market – Wed. Jun-Sep., 3:00-7:00pm, St.  Rose of Lima Church, Rt. 2, South Hero; Sat. Late May-Early Oct., 10:00-2:00pm, St. Joseph Church, Rt. 2, Grand Isle
Snow Farm Winery Summer Concerts Series – June-Aug, Thu Evenings, 5:00-8:30pm, free
Lake Champlain Fathers' Day Fishing Derby – June
Heart of the Islands Bike Tour – July, Bike to the heart of the Champlain Islands  with Vermont Farm Tours during the annual Open Farm and Studio Weekend.
Open Farm and Studio Weekend– Farmers, artists and artisans in the Lake Champlain Islands will open their premises to visitors.
Island Arts – year round performances and classes
PLACES of INTEREST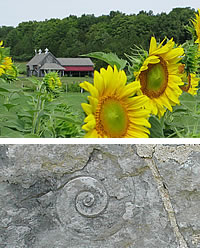 Allenholm Orchard – Apple Orchard, petting zoo, kids playground, maple creamies
Hacketts Orchard – Apple Orchard, vegetables, kids playground, cider slushes
Goodsell Ridge Preserve – 450 million year old fossils
Sandbar State Park
SnowFarm Vineyard – Vermont's first grape vineyard and winery
Round Pond State Park – walking trails
Landon Trail (South Hero) – Short walking trail on Landon Farm.
Grand Isle Arts Works – Works of Art and Cafe
Champlain Valley International Wine Trail –
Savor the Islands –
RESOURCES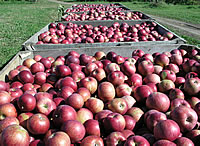 Lake Champlain Islands Chamber of Commerce
South Hero Land Trust
Local Motion – local bike advocacy organization and operator of the Bike Ferry across the Causeway.
Lake Champlain Maritime Museum
Green Mountain Club – statewide hiking organization and maintainer of the Long Trail
Lake Champlain Ferries
Burlington International  Airport
Print