An evening at a Wine Down includes wine, music and food.  Mixed together with friends and family. These events have no cover charge and no dress code. Just the right amount of sports jackets and flannel shirts add to these quintessential Vermont Winter evenings.
The musician(s) plays in  the Tasting Room, allowing for the music to radiate throughout our three rooms.  Stools at the wine bar are open all evening. High top bar style tables and bistro tables are spaced throughout the room.  The two cozy futons are hard to leave when the music eventually stops at the end of the evening. Everything together makes it a comfortable environment to decant wine into your glass, as you please.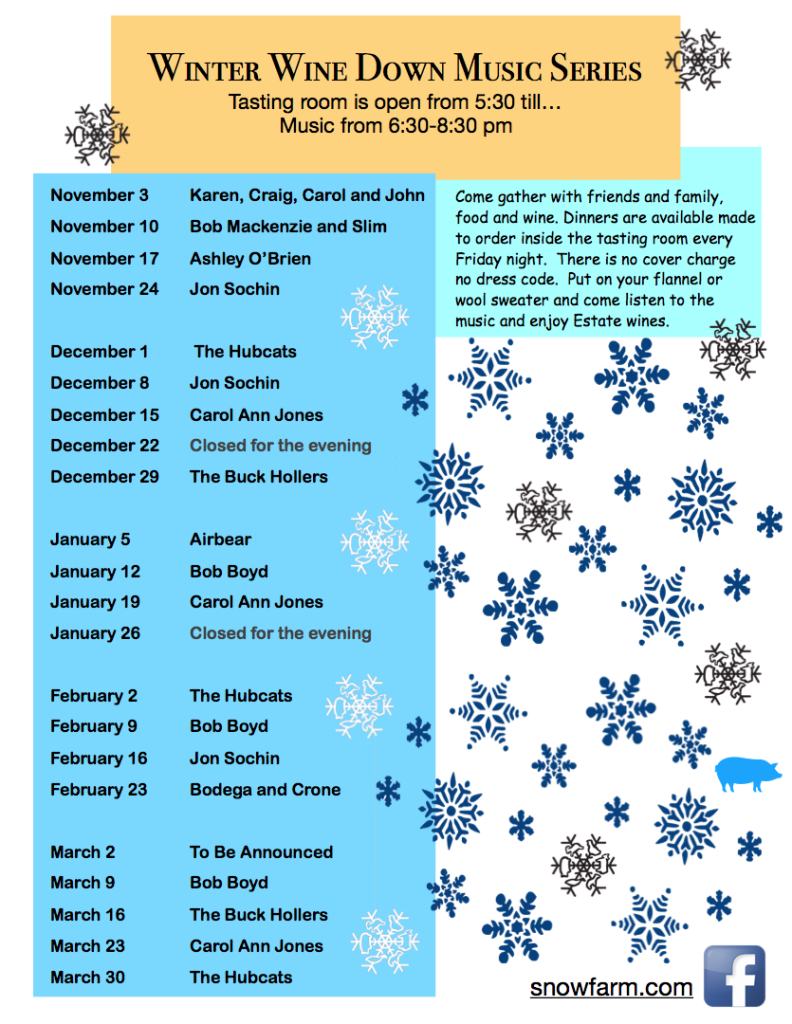 Snow Farm Vineyard is home to the Winter Wine Down Music Series.  Wine Down with us for an intimate evening of wine tastings, live music, food, art shows, laughter, family and friends.  The Wine Bar is open from 6:00 – 9:00 pm.  Entertainment with live music from one of our many talented local artists happens from 6:30 – 8:30 pm.  Catered Winter Menus by My Kids Kitchen or Crescent Bay Farm available to order in the Tasting Room every Friday night.  Dinner can be ordered on-site the evening of the Wine Down, no pre-ordering required.  Stop in to sip the wine, chat with friends, and get lost in the music all together.